Improve the efficient use of data – exploiting XML to work for you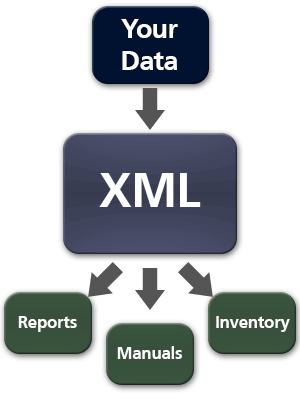 How much time do you spend rewriting reports, updating endless technical procedures, preparing stock reports in endless formats? A change in your Bill of Materials, needs to be followed through to invoices, spares catalogues, maintenance procedures, training and even marketing material. We can release you from that burden by converting your core data into XML.
XML is a markup language; technically it stands for Extensible Markup Language. By design, it is a carrier for the information that needs to be incorporated into a document and, simply put, XML is a briefcase where you store data. Having input your core data once, you can call out your data into any format that you want; reports, technical instructions, inventories, word documents, pdfs or digital data. More importantly, change a piece of data once, and that change flows through every occurrence of that data. The options are endless!
So why use XML?
XML's efficiency and accuracy when it comes to data management has a proven track record. Airlines such as Jet Blue depend on XML for updating flight manuals and even flight plans because of its reliability. Whilst a business document is usually safe, it is invariably not in one location but various locations. We can use XML to integrate this data. Companies like General Motors are finding solutions in XML for their problems with data in distributed environments. XML is the simplest solution for solving all these complex issues.
Simplicity – XML is easy to understand. We are free to develop the system based on your needs.
Organisation – Data sits on one page, and formatting rules stay on another. If you have a general idea of what information you need to produce, we can write the data page first then work with you on the design. XML allows you to develop data output in stages.
Accessibility – With XML we compartmentalise your work. Separating data makes it accessible when changes are needed. When the time comes to change an inventory record or update technical details, there's no need to wade through all the code to find a few lines. With XML, separating data makes changes quick and easy (and therefore cost effective).
Standardisation – XML is an international standard. This means that anyone across your business will have the ability to view your document.
Multiple Applications – You can make one data page and use it over and over again. This means if you are cataloguing inventory, you only do it once. You can create as many display pages as you want for that data. XML allows us to help you to generate different styles and formats based on one page of information.
Can you afford not to use XML?
Ultimately, XML is a tool that we can get working for you. It keeps your data organised into practical compartments, saves time and keeps the design flow organized. When you think about it, why wouldn't you use XML?
To find out more about how Aspîre can help improve how you are exploiting XML, contact us today by email or by calling 01827 723 820.