Expert support engineering advice for the defence sector from Aspire
If a platform is considered to be a complicated system, then the totality of the Mission Systems, Support System and Employment Plan must be considered as complex, which requires a pragmatic, systems engineering approach to achieve optimal performance and through life cost. Systems Terology (the care of systems) was derived by decomposing a wide range of extant techniques (Lean, LSA, Value Stream Analysis [VSA], Theory of Constraints, etc) down to the fundamental underlying principles, then removing all duplication and jargon.
The result is a small number of common principles (such as minimising and managing variation, the balanced system, measurement and feedback, system resilience, emergent properties and the need for Complex Root Cause Analysis) which can be readily applied to analysing and optimising complex systems and processes throughout the system life cycle.
By understanding the complex relationships between cause and effect, combining established decision theory with sophisticated modelling techniques and utilising data from existing information systems, the Systems Terology methodology facilitates effective decision making. Systems Terology facilitates the development of optimal, justified and defendable decisions. The underlying logic of such decisions will be clearly demonstrable.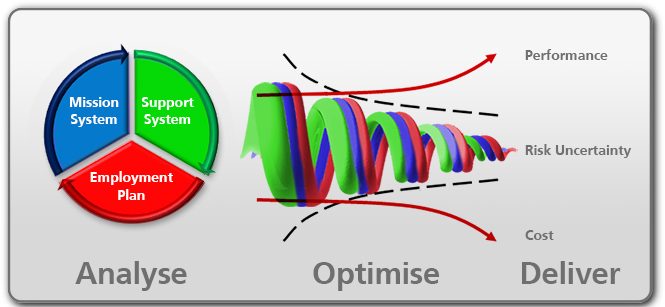 The Optimum Support Solution – Delivered within the given constraints
With decisions influenced by feedback, Systems Terology is the key to optimising enterprise performance and the maintenance of continuous improvement. It addresses the required performance, usage environment, reliability, maintenance, support needs and costs throughout the systems life cycle.
In order to support you and provide you with an efficient support solution for your complex systems, we have a team of experts with a reputation for integrity, quality and delivering on time. The Aspîre Systems Engineering Team (A-SET) comprises of core members (Supportability Engineers and Project Managers), associates (who augment the capability and skills of the core members) and an industrial team of specialists, who help to extend the knowledge of the core members and associates in specific sectors and industries.
Support tailored to your needs – choose from one of Aspîre's packages or design your own
Aspîre and its defence customers – working together to providing a dynamic, world class Support Engineering capability: the best people, Systems Engineering based methods, supported by the best tools. We can work with you from initial analysis and concepts through the in-service phase to final disposal, so please contact us today on 01827 723 820 to discuss how we can best support your organisation.
We welcome your questions