Complete support for your business across Aspîre's systems engineering sectors
[ezcol_2third]
Aspîre provides systems and systems engineering services, training and IT/IS support across markets in the UK, Europe, the USA, the Middle East, South East Asia and Australia. We use a bespoke systems engineering methodology, to analyse your business and optimise your processes and deliver on your business plan. We help organisations to maximise the safe performance of their equipment, plant or assets and to reduce costs.
Four sectors to give you complete support for plant, training and IT systems
Defence: Aspîre has been optimising very complex operational systems and providing training in the defence sector since 1996. We use our extensive knowledge, expertise and a mix of pragmatism and innovative system engineering techniques to optimise systems operating in some of the world's most dangerous and challenging environments to deliver reduced costs and to improve operational effectiveness.
Industry: No one shoe fits all; Aspîre listens to client's needs and offers bespoke solutions designed to be efficient, flexible and cost effective. Time and time again, Aspîre has demonstrated how organisations can improve efficiency, increase profitability, reduce downtime, lower cost and improve safety.
Performance Driven Training: Aspîre PDT (Performance Driven Training) provides training delivery and training services to defence and commercial clients worldwide. Through interaction with our clients, our courses are tailored to meet their exact needs. If you are unsure as to your requirement we can provide a service based on training needs analysis, course design and course delivery.
Business Security and Support: Aspîre IGP (Innovate. Guide. Protect.) provides information security and technology, looking after businesses across the UK and handling their IT needs. It provides a wide range of IT support, cyber security and hosting services, from reactive support and remote monitoring services through to fully managed outsourced solutions. Aspîre IGP is a leader in the provision of affordable services to combat cyber security threats for SME's.
Comprehensive analysis and advice to drive long term growth and improvements      
At Aspîre, we focus not only on the short term gains that can be made from improvements to your systems and processes, but also the long term impact that any changes will have on your facilities and personnel. Initial modifications which lead to ongoing monitoring to enable a sustainable growth and development is what we aim to implement when working with you.
Contact Aspîre today to discuss your needs and find out how our experts can help you!
[/ezcol_2third] [ezcol_1third_end]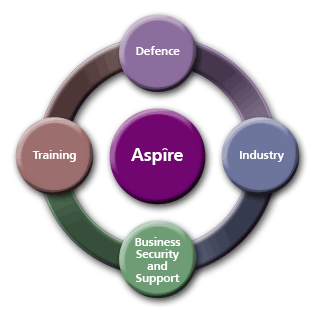 We welcome your questions
[contact-form-7 id="441″ title="Contact form 1″]
[/ezcol_1third_end]